Shenzhen embraces Hong Kong in financial markets integration plan, a prelude to easier capital controls
6 Aug, 2020 20:17
source:
South China Morning Post
Singularity Financial Hong Kong August 6, 2020 – Shenzhen embraces Hong Kong in financial markets integration plan, a prelude to easier capital controls (Source: South China Morning Post, by Enoch Yiu)
Shenzhen, the richest of Greater Bay Area cities in Guangdong province, has outlined a 50-point blueprint to expand and upgrade its financial services sector to grease trade and capital flows with investors based in Hong Kong and elsewhere.
The plan includes 85 measures aimed at fostering financial innovation, widening market access to foreign investors, and strengthening market cooperation with Hong Kong, according to details posted on the Shanghai Securities News website on Wednesday.
The announcement coincided with a report published by a top research institute, which recommended upgrading the status of Shenzhen and three other cities to centrally administered municipalities, on par with Beijing and Shanghai.
The plan could give Shenzhen the clout that typically attracts significantly stronger policy support from the central government and greater allocation of resources to develop various investment projects in state-favoured sectors.
The Silicon Valley of China is home to some of the world's biggest companies including Tencent Holdings and Ping An Insurance.
The move to embrace Hong Kong comes amid China's tightening its grip on the Asian financial hub since the promulgation of the controversial national security law in late June. It follows long-standing efforts to bridge the financial markets on both sides of the border through various so-called "Connect" programmes.
"We will like to look at the details on how Shenzhen will open up for Hong Kong- based brokers to operate there," said Tom Chan Pak-lam, chairman of Hong Kong Institute of Securities Dealers, who is looking forward to how capital controls can be eased in this situation. "If it's opening up for local brokers, it will widen our customer base substantially."
The twin booster will strengthen Shenzhen's leading role in the bay area, an economic cluster comprising nine cities in southern Guangdong province and Macau and Hong Kong. The area as a group commanded US$1.66 trillion in gross domestic product (GDP) in 2019, equivalent to the size of 11th ranked Russian economy.
Shenzhen and Hong Kong, which are 15 minutes apart by high-speed train, had a population of 20 million people in 2019, according to official estimates. Their combined GDP of US$745 billion was larger than the 19th ranked Turkish economy.
A tie-up could energise the two cities plagued by the coronavirus pandemic. The Shenzhen government is keen to cement a stronger bond by welcoming Hong Kong-based banks, securities houses and insurers to grow their footprint in the city, according to the Shanghai Securities News.
It is also keen to promote bigger cross-border bank lending between Hong Kong and Shenzhen, establishing more funds to invest in the bay area, as well as luring foreign investors to trade its bonds and carbon emission credits.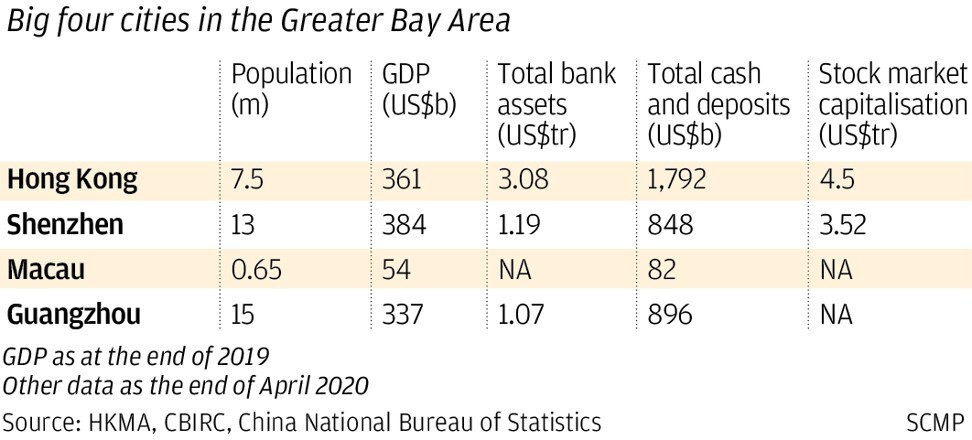 "The Hong Kong Monetary Authority will maintain close collaboration with the mainland authorities to implement various initiatives to support GBA development," a spokeswoman said in response to the plan. Good progress has been made in efforts to facilitate cross-border access to financial services for individuals and companies, the HKMA added.
Joseph Yam, former chief executive of the Hong Kong Monetary Authority, said boosting capital flows is key to the success of the Greater Bay Area project, according to his speech at an online forum last week. It would be ideal to allow Hong Kong banks to take deposits and make loans in the bay area, and vice versa, he said, adding that capital movements can be ring-fenced to control risks.
An arrangement enabling stock-connect trading for investors in Hong Kong and Shenzhen exchanges has been in place since 2016, and that may also be expanded, according to the announcement.
In the area of digital trade and payment channels, the blueprint could explore ways to enable the usage of popular payment apps as conduits to facilitate trade flows between Shenzhen, Hong Kong and Macau, it added. They are currently disabled, presumably because of cross-border capital controls.
The Shenzhen plan may be a magnet and a saviour to financial market players in Hong Kong, a huge but faltering market in the past year for suffering lenders like HSBC and Standard Chartered Bank.
These measures will enable Greater Bay Area to spearhead China's capital market liberalisation and the global usage of the yuan currency, said Diana Cesar, chief executive of Hong Kong at HSBC. It will also extend the hinterland for financial institutions in Hong Kong and Macau, she added.
"Among the measures, the cash pool allows multinational companies to manage their treasury operations more effectively as they develop their business in GBA," she said. "In terms of technology development, we welcome the launch of sandbox to stimulate digital innovation."