China Evergrande threatens to sue Guangfa Bank as debt controversy turns ugly
19 Jul, 2021 13:16
source:
Singularity Financial
Singularity Financial Hong Kong July 19, 2021 – The China's most-indebted developer China Evergrande has threatened to take legal action against China Guangfa Bank for abuse of law, after the lender froze some of its deposits onshore to recover a loan, highlighting another episode of market jitters and controversy surrounding the builder's creditworthiness.
Evergrande said a subsidiary owed 132 million yuan to a Guangfa Bank branch in Jiangsu, but said the loan isn't due until March 27, 2022. Evergrande said it would sue the bank for abusing legal procedures.
A court in Jiangsu province froze 132 million yuan, equivalent to $20.4 million, of bank deposits and assets held by Evergrande units, at the request of lender China Guangfa Bank Co. The ruling was uploaded on July 13 to a Chinese government portal, but was circulating among investors on Monday. The court said it made the decision to protect Guangfa's legal interests.
While the company has touted rapid progress in debt reduction, as of March it still had interest-bearing debts of 674 billion yuan, equivalent to $104 billion.
Evergrande crashed 16 per cent on Monday to HK$8.21, the most in nine months, sending the stock to the lowest level since May 2017. The sell-off wiped out HK$21.1 billion (US$2.71 billion) of market capitalisation, bringing the value destruction over the past 12 months to US$23.5 billion. Its dollar-denominated bonds also slumped.
"The bank's move is very rare as banks usually would not have a falling out with major clients like Evergrande," said Dai Ming, a fund manager at Huichen Asset Management in Shanghai. "Chinese developers rely heavily on banks for funding and when the credit line is questioned, it would be very difficult to raise money in other ways."
Ms. Zhou noted that the ruling covered Hengda Real Estate, Evergrande's main onshore subsidiary, as well as a project-development unit.
Meanwhile, the housing authority of Shaoyang in southern Hunan province has asked the developer to halt pre-sales of homes at two of its projects in the city. The developer is accused of breaching some regulations pertaining to off-book sales collection, according to a statement posted on the authority's website.
Despite its struggles with market perception, Evergrande has lived up to its financial obligations, repaying each maturing bond on time and keeping offshore bondholders happy. Chairman and founder Hui Ka-yan has relied on global money managers and local billionaires to fund its business by offering high yields on some US$14 billion of foreign-currency bonds.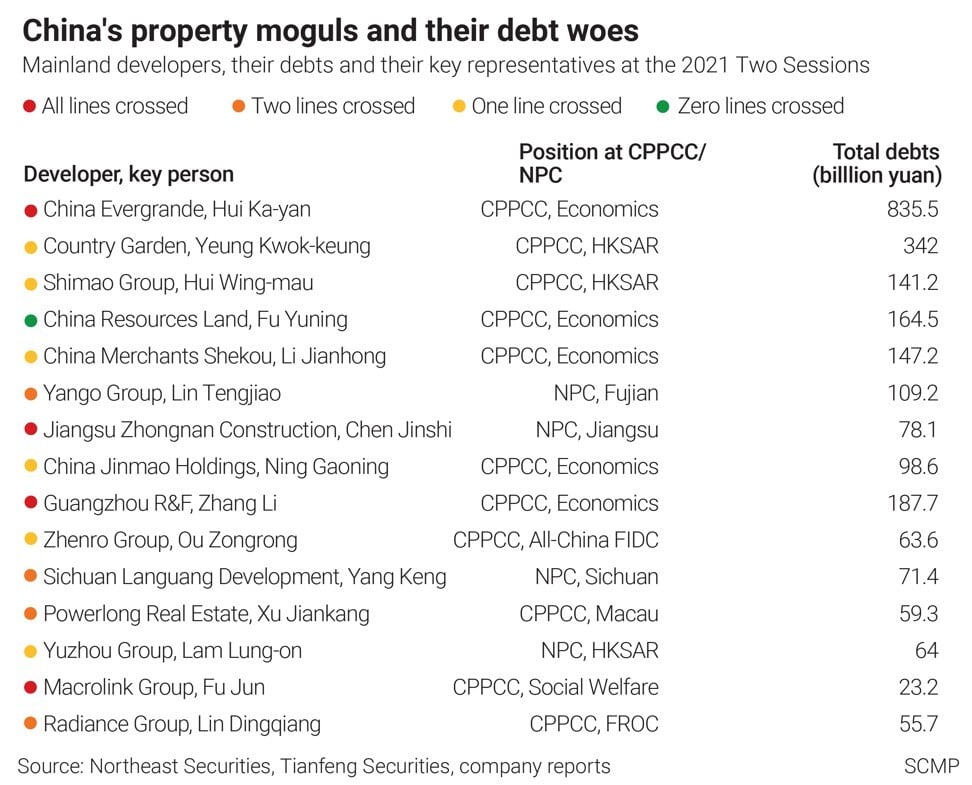 "Investors are worried if the ruling carries some harsher signal from the top," said Chuanyi Zhou, a credit analyst at research firm Lucror Analytics. "The event within itself is not critical, but should other financial institutions follow through, it will be stressful for Evergrande," she said.
Chinese regulators have been pushing the country's highly leveraged developers to cut debt, and have restricted banks' property lending. They are seeking to reduce financial risks and to calm property markets after years of rapid price rises.