Individual investors is fueling China melt up rally followed by funds short covering
6 Jul, 2020 23:37
source:
Singularity Financial
Singularity Financial Hong Kong July 6, 2020 – The CSI 300 Index has rallied for six straight weeks to a five-year high amid surging volumes and cheerleading from state media.  Individual investors appeared to be playing a role in what appeared to some traders to be a so-called melt up Monday.
Shares of brokerages surged as daily turnover exceeded 1.5 trillion yuan ($213 billion) for the first time since 2015, indicating increasing participation from retail investors. On Monday (July 6), the CSI 300 index of  Shanghai and Shenzhen listed shares rose nearly 6%, to a 5-year high. Hong Kong stocks jumped 3.8%. Monday's more-than-5% gain in stocks had only happened once before since the bubble burst.
Analysts and investors said it was hard to pinpoint a single clear driver for Monday's surge. But some pointed to a front-page editorial in a major state-owned financial newspaper China Securities Journal. The publication said investors should look forward to the "wealth effect of the capital markets" and the prospect for a "healthy bull market."  It fuels a strong rally in Chinese markets overnight that spread to global equities.
Macro hedge funds and quantitative investors are fueling the Chinese stock market rally as they unwind bearish wagers, according to Nomura.
Such investors have been exiting short positions in Chinese equities as market sentiment rises to the highest since March, said Masanari Takada, cross-asset strategist at Nomura, citing positioning data for Asian equities.
"It appears that the market gains have been powered by global macro hedge funds and systematic funds," he said in a note on Monday. Such investors, which include Commodity Trading Advisors and risk-parity funds, are now "covering short positions in a conspicuous way."
"We have the Fed to juice bull markets, China has its state media," wrote Peter Boockvar, chief investment strategist at Bleakley Advisory Group.
China's economy faces many hurdles, including trade issues with the U.S. and the growing friction as the economies move to decouple. But in the near term, the prospect of an improving China spilled over to other markets, boosting sentiment for global trade.
BOCOM International's Hao Hong told CNBC that the Shanghai broke through a key 850-day long term moving average.
"The market continues to believe that the central bank will ease more, as seen by China's recent credit and monetary expansion," said Hong. But he added, "In China, the bull comes  as swiftly as it leaves.
"It's very unlikely for us to go through the boom-and-bust like we experienced in 2014 and 2015," said Dai Ming, Shanghai-based fund manager at Hengsheng Asset Management Co., who is buying property shares. "The market isn't flooded with money everywhere like last time. Beijing is still very prudent with its monetary policy."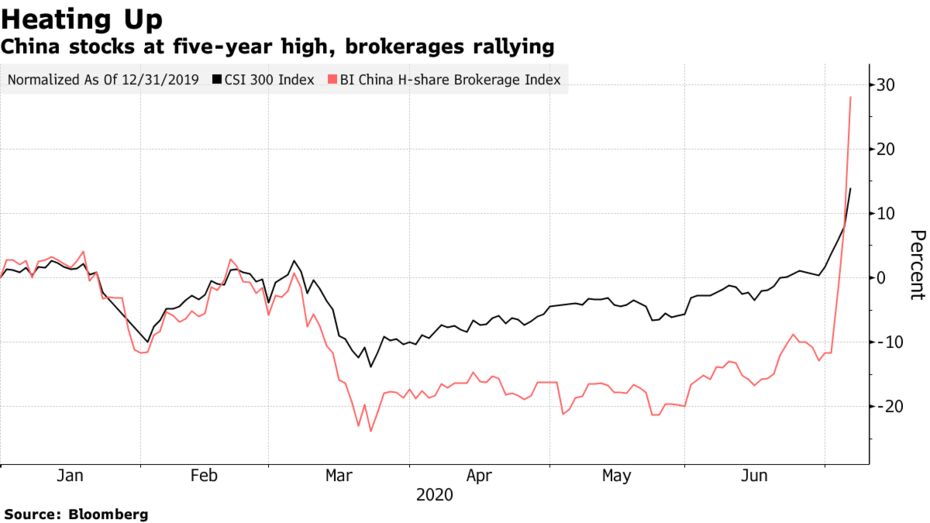 "The state is very cautious about creating another boom-bust as seen in 2015, realizing the harm to confidence that comes from the bust is greater than the good from the ride up," said Wang Zhuo, fund manager at Shanghai Zhuozhu Investment Management Co.