Historic mania in SPACs and IPOs and huge fees for wall street banks
12 Mar, 2021 04:49
source:
Singularity Financial
Singularity Financial Hong Kong March 12, 2020 – Special purpose acquisition companies (SPACs) had an enormous year in 2020 and are poised to go even bigger in 2021. While the number of SPAC IPOs last year already dwarved all previous years, 2021 already surpassed that figure as of March.
The business of SPACs is setting stunning records. According to the data collected by SPACInsider, there were 248 SPAC IPOs in the U.S. over the course of 2020. In 2019, there were just 59, with most years over the last decade failing to produce more than 20 SPAC IPOs. As of March 11, there have already been 252 SPAC IPOs in the U.S. in 2021. US$6.4 billion have been raised per week in 2021, compared to US$1.6 billion per week in 2020. Banks have now reported their fourth quarter results, including the fees they earned from SPACs and IPOs.
In 2020, the top six in equity underwriting fees – Goldman Sachs, Morgan Stanley, JPMorgan, Bank of America, Citigroup, and Jefferies – earned $14.1 billion in fees from SPACs and IPOs, according to the Wall Street Journal, up 89% from 2019.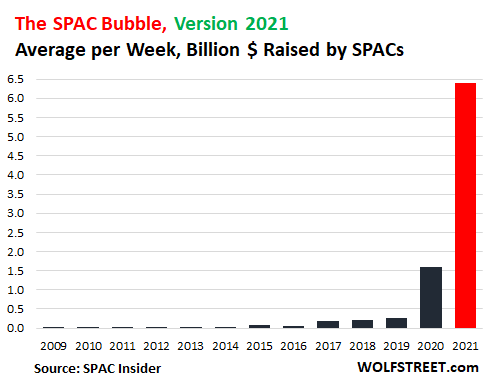 What makes SPACs so attractive in the current economic climate is both wealthy investors looking for deals and owners of small companies looking to mitigate economic damage to their business in the wake of COVID-19. The implementation of an IPO can often revitalize a company and set it back up for success after months or years of stagnation or losses. It remains to be seen, however, what the long-term impact of SPAC acquisitions and IPOs will be on the U.S. economy over the coming years. Ultimately, SPACs often consolidate power among wealthy sponsors and spreads risk to initial investors – essentially using the IPO system to pass volatile company risk to the average stakeholder.