Hong Kong's stock exchange may be the winner after U.S. senate passes bill that could delist Chinese companies
21 May, 2020 20:36
Singularity Financial Hong Kong May 21, 2020 – by David Lee
The U.S. Senate approved sweeping new legislation Wednesday that could ultimately bar many Chinese companies from listing shares on U.S. exchanges, or otherwise raising money from American investors.
Sen. John Kennedy, a Louisiana Republican, submitted the Holding Foreign Companies Accountable Act for unanimous consent, a bill co-sponsored by Democratic Sen. Chris Van Hollen of Maryland and Republican Sen. Kevin Cramer of North Dakota. The bill was approved without objection.
The Holding Foreign Companies Accountable Act aims at Chinese stocks
"I do not want to get into a new cold war," Kennedy said on the Senate floor. "All I want, and I think all the rest of us want, is for China to play by the rules."
"Publicly listed companies should all be held to the same standards, and this bill makes common sense changes to level the playing field and give investors the transparency they need to make informed decisions," Van Hollen said in a statement. "I urge our House colleagues to act quickly."
The statute would require a foreign company to certify it's not owned or manipulated by a foreign government if the Public Company Accounting Oversight Board is unable to audit specified reports because the company uses a foreign accounting firm not subject to inspection by the board. If the board is unable to inspect the company's accounting firm for three consecutive years, the issuer's securities are banned from trade on a national exchange.
The Public Company Accounting Oversight Board, overseen by the Securities and Exchange Commission, is the nonprofit body that oversees audits of all U.S. companies that wish to raise money in the public markets.
The bill would also need to pass the Democratic-controlled House of Representatives before reaching the president's desk to be signed into law. "There is not yet a decision on whether to hold a vote on this legislation in the House, according to our conversations with trade and finance counsel there," wrote Henrietta Treyz, director of economic policy at Veda Partners, in a Tuesday note to clients. "But it is our view that there is bipartisan support for doing so as both Democrats and Republicans look to make their China hawk bonafides known to their constituents."
The Securities and Exchange Commission, the entity that oversees wide swaths of American securities markets and federal rules, has also recently warned that investments in foreign-based companies could pose extraordinary risks.
"In many emerging markets, including China, there is substantially greater risk that disclosures will be incomplete or misleading and, in the event of investor harm, substantially less access to recourse, in comparison to U.S. domestic companies," SEC Chairman Jay Clayton said in a press release April 21.
The SEC announced on Monday that it will host a roundtable on July 9 "to hear the views of investors, other market participants, regulators, and industry experts on the risks of investing in emerging markets, including China."
Hong Kong's stock exchange may turn out to be the winner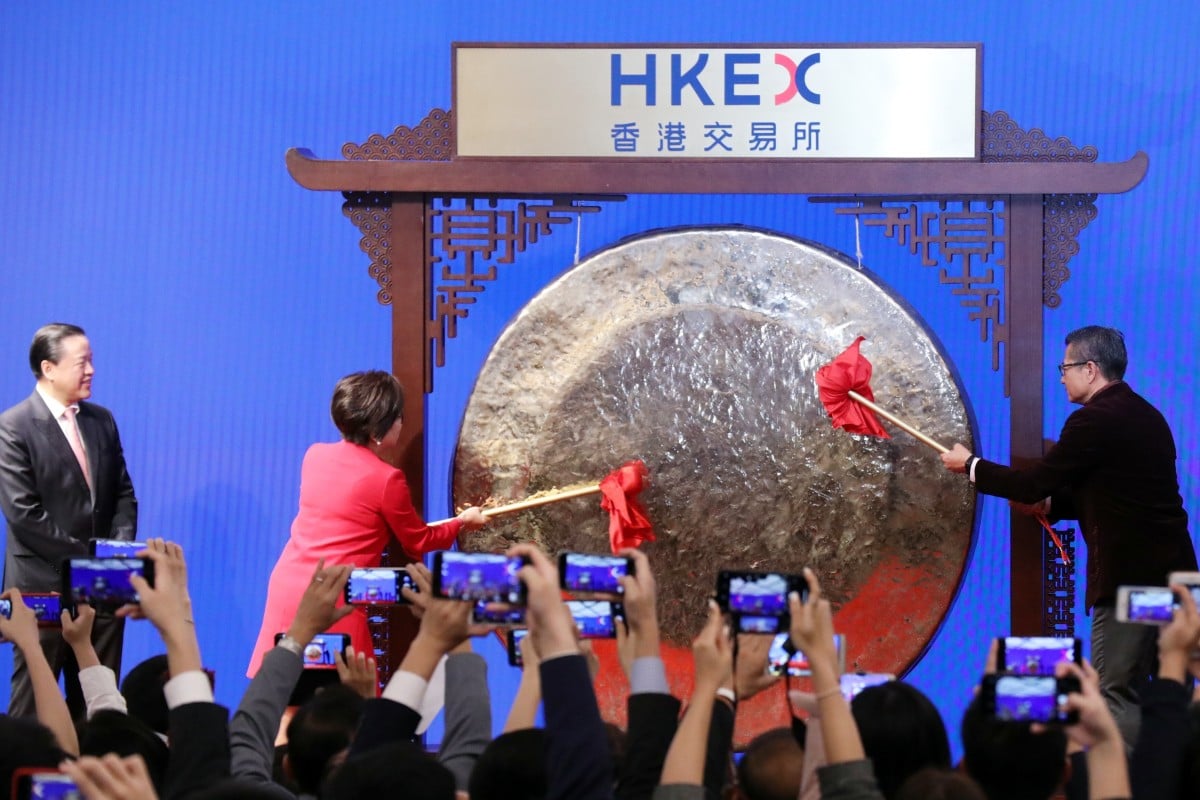 The bill adds to changes proposed by the Nasdaq to raise the bar on applicants for initial public offerings (IPOs), where the minimum fundraising will be increased to US$25 million, or at least a quarter of the company's value. The additional barriers on Wall Street may redirect more fundraising applications towards Hong Kong, Asia's third deepest capital pool, helping the city leap frog New York as the global hub for IPOs, bankers said.
"Chinese companies with smaller market capitalisation have tended to list in the US due to better liquidity" in the world's largest and deepest capital market, said BNP Paribas' Asia head of equity capital markets Christopher Wong. "With tighter listing requirement by Nasdaq, and increasing US-China tension, the Hong Kong stock exchange would stand to be the beneficiary."
Alibaba falls out of Buy range and Baidu may pull its listing from the Nasdaq 
Alibaba Group and other Chinese stocks remained under pressure Thursday, a day after U.S. Senate passed a bill that could eventually put their U.S. exchange listings at risk. Chinese search-engine giant Baidu cited the Senate bill in responding to a new Reuters report that the company may pull its listing from the Nasdaq in favor of an exchange that's closer to home.
The stakes are huge. A list compiled by the U.S.-China Economic and Security Review Commission in February 2019 included 165 U.S.-listed Chinese stocks worth more than $1.2 trillion.
Delistings, should it come to that, would happen after three years of noncompliance with U.S. accounting oversight rules. Yet while the bill doesn't carry near-term consequences, its fate could provide a telling signal of where the U.S.-China relationship is headed. At the moment, things don't look great.