U.S. IPO Market: SPACS drive a third quarter IPO surge
9 Oct, 2020 07:57
source:
Singularity Financial
Singularity Financial Hong Kong October 9, 2020 – U.S. IPO MARKET: SPACS DRIVE A THIRD QUARTER IPO SURGE (Source: Insight)
U.S. equities had a strong third quarter and this was reflected in a blockbuster quarter for initial public offerings on U.S. exchanges. Buoyed by the Fed's accommodative monetary policy in the face of the COVID-19 pandemic, the S&P 500 saw a price increase of 8.5% for the quarter and finished up 4.1% year-to-date as of September 30.
As a result of the market recovery, third-quarter IPO activity far surpassed anything we have seen since the Global Financial Crisis (GFC). According to FactSet data, 165 companies IPO'd on U.S. exchanges in the third quarter. On a monthly basis, July saw 55 IPO's, August had 51, and September had 59; this came on the heels of the 48 IPOs in June. When put in historical context, these were extraordinary numbers. Over the last ten years, monthly IPO activity never exceeded 40 until June 2020—and now we've had four consecutive months at these remarkable levels. This puts us on track for a record-setting year in 2020; if the fourth quarter is an average quarter, meaning 58 IPOs according to the average over the last decade, we could have 341 IPOs this year.
This four-month surge in IPO activity has been driven by a boom in offerings from Special Purpose Acquisition Companies (SPACs), sometimes called blank check companies. SPACs are companies that are created with the express purpose of effecting a merger, capital stock exchange, asset acquisition, stock purchase, reorganization. or similar business combination with one or more businesses. In the third quarter, there were a whopping 77 SPACs that went public, representing 47% of all IPOs for the quarter. Money raised from these SPAC IPOs similarly accounted for 47% of total gross proceeds. As private companies increasingly look for innovative ways to bring their shares to public markets, it will be interesting to watch this trend going forward and track the performance of these SPACs.
Q3 2020 IPO Activity Surges
There were 165 IPOs in the third quarter, an increase of 126% compared to the 73 companies that debuted in Q2. This was 195% above the IPO volume seen in Q3 2019. Gross proceeds from IPOs for the quarter totaled $61 billion—double the money raised in the second quarter; this was the largest quarterly amount raised in the last decade.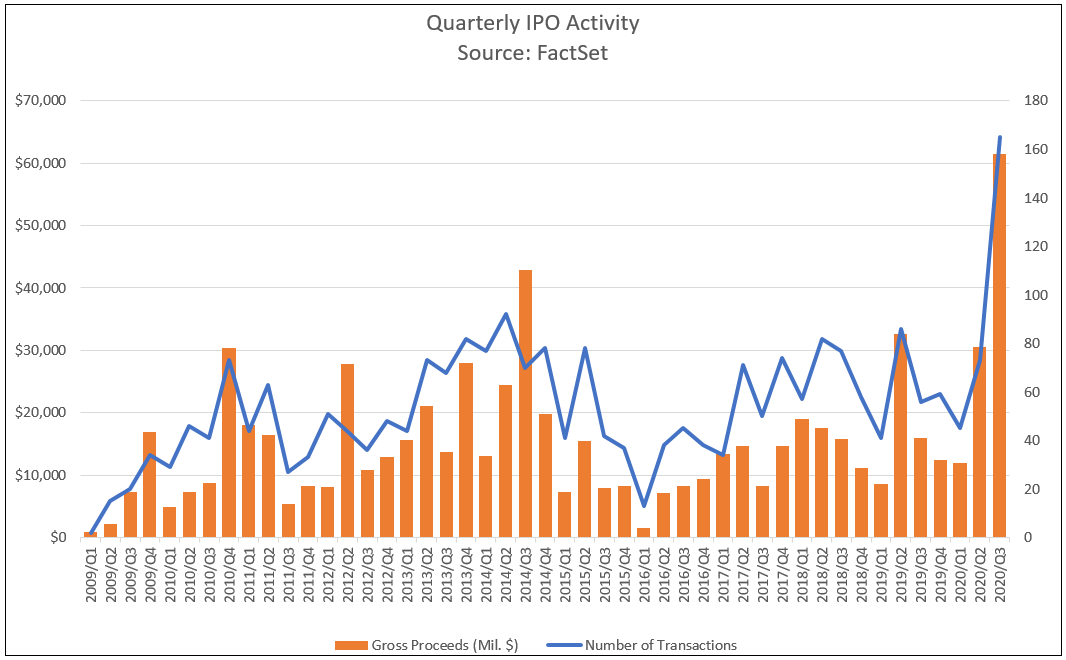 IPOs tended to be larger in size in the third quarter; the average money raised for the quarter was $372 million, down from the average size of $419 in the previous quarter. Nearly one fifth (18.8%) of the quarter's IPOs raised over $500 million, the second-biggest share in 10 years, following the 21.9% registered in the second quarter. However, IPOs in the $100-500 million range dominated; there were 106 IPOs in this size range, representing 64% of the quarter's IPOs. Most of the quarter's SPACs fell into this range (61 of 77).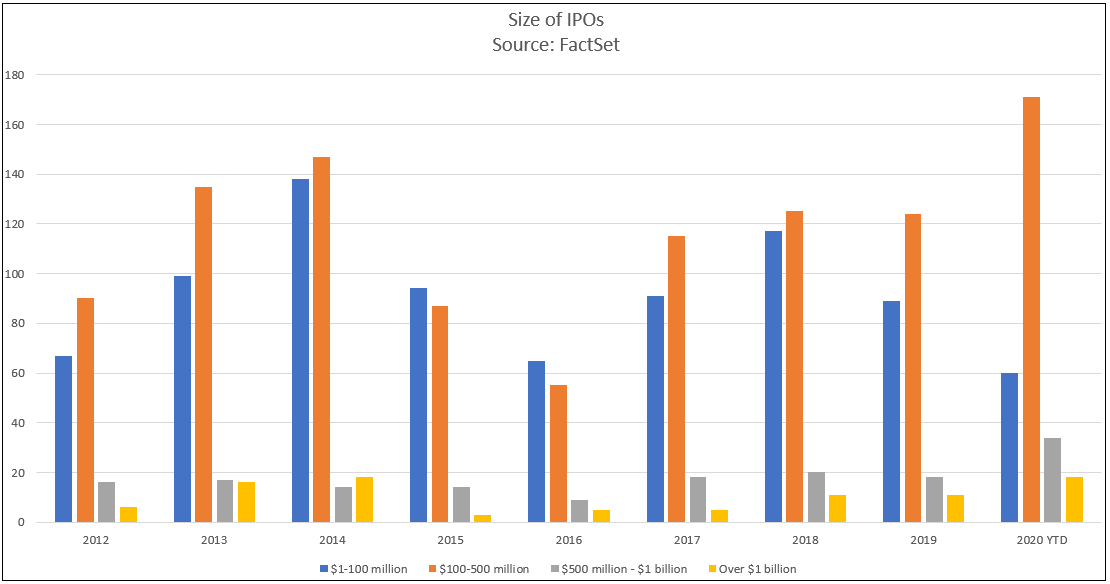 There were 10 mega-IPOs in the quarter, the most seen since the GFC, led by Snowflake (priced September 16, 2020, raised $3.9 billion); Snowflake was the second-biggest IPO of the year so far.
Ten Largest IPOs in 3Q 2020
Source: FactSet
The Finance Sector Leads Q3 2020 IPO Volume Thanks to SPACs
Of the 165 initial public offerings in the second quarter, a staggering 86 were in the Finance sector because of the 77 SPAC IPOs. We haven't seen a quarterly number like this in the last decade. In fact, this is ahead of the 84 Finance sector IPOs we saw for all of 2019. Not surprisingly, the Finance sector led all sectors in terms of total money raised ($33.2 billion), followed by Technology Services with $16.1 billion.
IPOs by Sector (ranked by 3Q 2020 volume)
*Excludes Slack
Source: FactSet
Activity by Financial Sponsors Picked Up in Q3
There were 34 venture-capital-backed IPOs in the third quarter, an 89% increase from the previous quarter and the highest quarterly number since Q2 2019. There were seven private equity-backed IPOs in Q3 2020, also the highest number since Q2 2019. Gross proceeds for VC-backed offerings totaled $13.7 billion, while PE-backed IPOs raised $1.3 billion. At this pace, IPOs backed by VC and PE funding appear poised to match 2019's numbers, at least in terms of volume.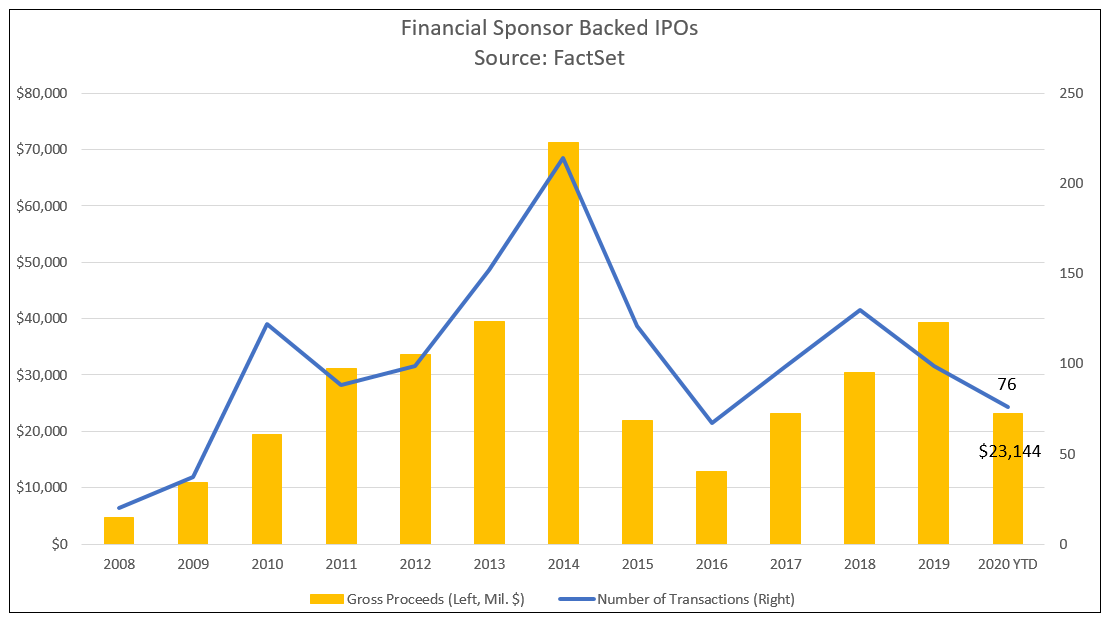 Direct Listings and SPACs
Over the last two years, we've seen two technology companies opt for direct stock listings to bypass the traditional IPO route via Wall Street underwriters: 2018 brought us the Spotify debut and Slack went public in 2019. On September 30 two more companies followed suit: Palantir and Asana. However, in 2020, SPACs appear to be the preferred way to go public while avoiding the substantial cost and effort involved in going public via the official IPO process.
SPACs are created with the sole purpose of acquiring an existing business. Some SPACs have specific sectors or industries in which they plan to operate, but others give their management teams latitude to purchase any type of business they want. SPACs are given a specific time frame in which they must find a company in which to invest; if this doesn't happen, investors typically get their money back. For investors, there is a chance for a nice payout if the SPAC acquisition is successful.
The number of SPACs exploded in the third quarter. There were 77 SPAC IPOs, an increase of 185% compared to the 27 that debuted in the second quarter. This compares to a total of 55 in all of 2019. As noted above, the SPACs tended to be in the $100-500 million range. Gross proceeds for the quarter totaled $28.8 billion—more than double the money raised in the second quarter. The success or failure of this large class of SPACs likely determines the longevity of this trend.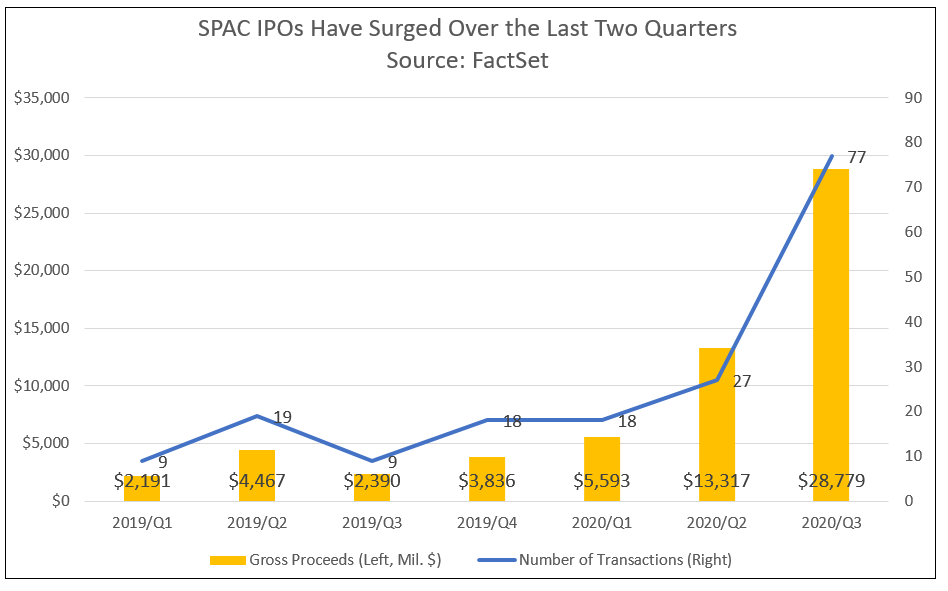 Factors Impacting IPO Activity for the Rest of 2020
A total of 283 companies had IPOs in the first three quarters of 2020; the surge in the third quarter puts us on pace for a record year. Looking ahead at future IPOs, 106 companies have released initial preliminary filings in 2020 and are still in registration (this excludes offerings that are postponed or withdrawn).
While U.S. equity markets are up for the year, there is still considerable uncertainty heading into the fourth quarter. The two biggest risks looming for U.S. equity markets are the economic impact of a resurgence of COVID-19 cases and the November U.S. presidential election. While stimulative fiscal and monetary policy has boosted financial markets in recent months, markets will be watching for continued government support if risk perceptions remain heightened. Renewed market volatility could discourage companies from going public.
Note: All statistics are based on FactSet data for IPOs priced during the specified period for companies going public on exchanges in the United States. Note that data for previous quarters/years has been revised based on updated information, so values cited here may not match previous publications.
Original Source: https://insight.factset.com/u.s.-ipo-market-spacs-drive-a-third-quarter-ipo-surge